Portfolio Building with Model, Pedro
Recently I got to work with an up-and-coming male model, Pedro. He contacted me via Instagram about getting more photos for his modeling portfolio. I was excited to work with him, since it's much less common for me to work with male models. Not that I don't enjoy working with male models, but typically, males are less interested in modeling and posing for pictures. 
As it turns out, Pedro went to the same school as I did for my Master's degree. That set the tone for the shoot and created a relaxed atmosphere, something essential for a portrait or fashion shoot. Over the course of the afternoon, we worked our way through 4-5 looks, utilizing both natural and artificial light. Pedro has a classic, James Dean/James Franco look with a dashing smile. This inspired us to emulate that 50s, classic, movie-star vibe, as well as a more modern look. Shooting with male subjects is generally different than female ones. I use different light modifiers and lighting positions when working with males. In the example on the right, I was looking for contrast and color tones that complimented Pedro's features and wardrobe. So, I used a red gel on my kicker light placed back left of the subject. The key light was a 3' octabox placed about 45 degrees front-right of Pedro fitted with a grid and double diffused. Normally I wouldn't do this and go for harder light, but I wanted subtle front light so the red would really pop and his eyes weren't too bright. This gave him more of a mysterious villain look.  In the end we created a character that could be James Bond's nemesis.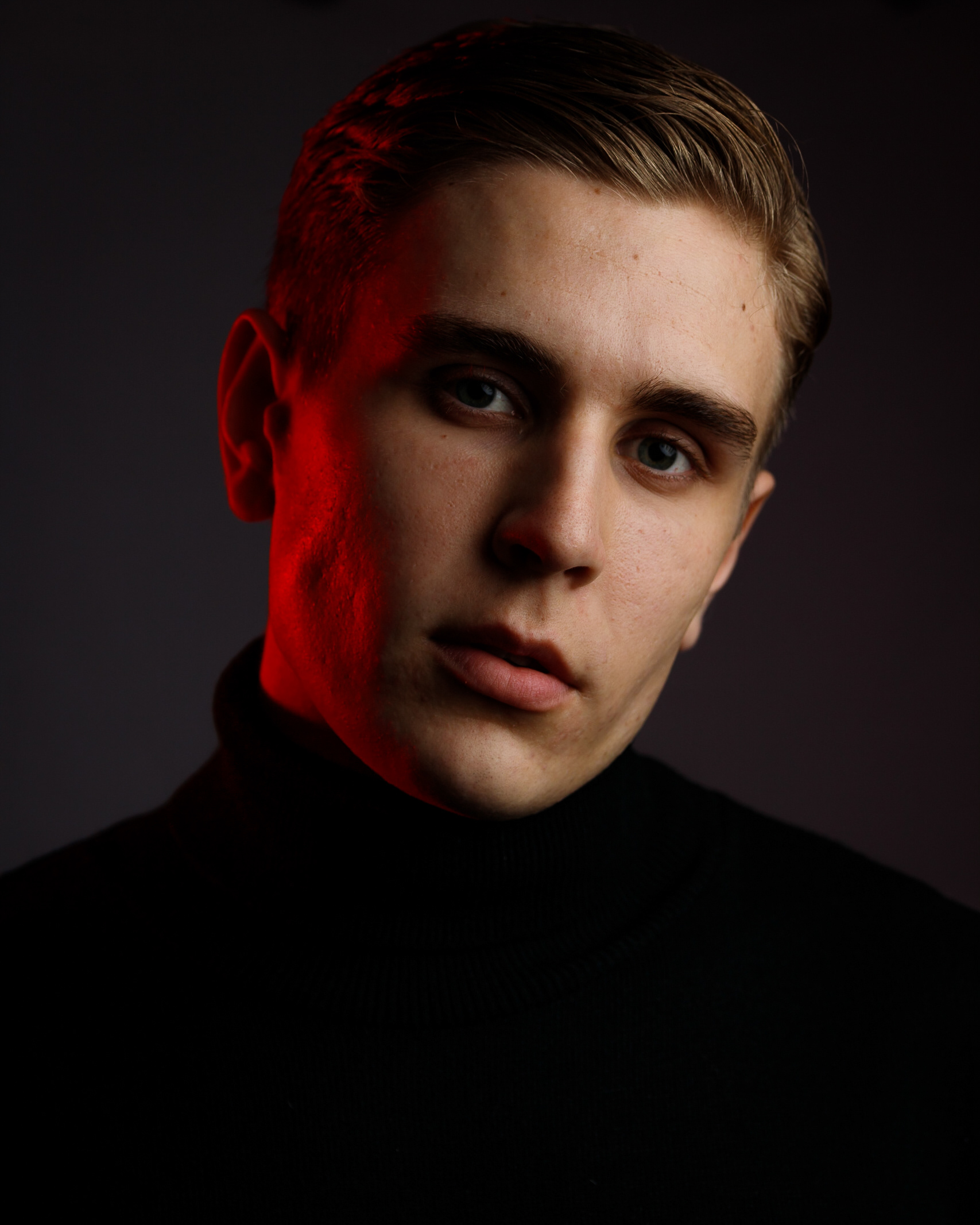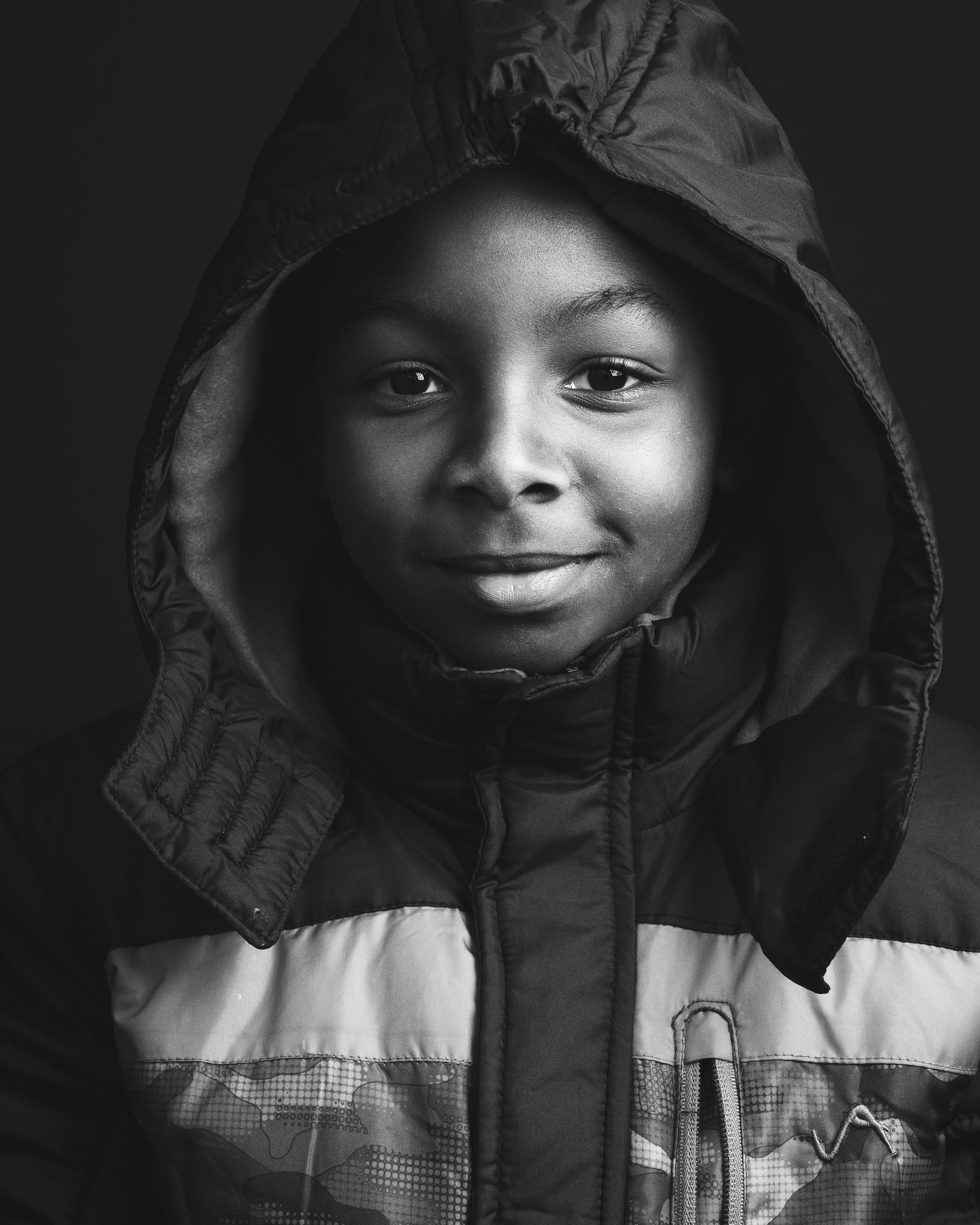 The Hopewell Portrait Project
T
his weekend, I had the pleasure of taking 45 portraits of people on the streets of Hopewell, Virginia, my hometown. Hopewell is a small town with a storied past and a diverse population. An industrial town in the American South, Hopewell has long been considered an arts and culture desert. I came up with the idea of the Hopewell Portrait Project as a rebuttal to this view of the City. 
   Many of the faces of Hopewell are unknown and I wanted to reveal some of these faces to the public by taking a series of black & white portraits of friends and strangers alike. While some knew I was doing this project via social media, most of these portraits were people unknown to me. Part of the fun was calling to people on the street passing by and convincing them to let me take their portrait. Some needed far less convincing than others. As it happened, there was a "fur fest" happening a block away and many people were there with their dogs, which added extra entertainment and "aww" factor to some of the photographs. 
   All 45 portraits will be printed and displayed in the windows of businesses in Downtown Hopewell giving the general public a chance to see new faces previously unknown to them. When the display comes down, the 45 prints will be donated to the Hopewell Library for their archival collection and take their place as part of Hopewell's history. I want send a massive thank you to the
Hopewell Downtown Partnership
and
CultureWorks Richmond
for making this project possible with their financial generosity. 
   The portrait tp the left is Messiah, an elementary school student in Hopewell.